For more information:
David Esparza
President
800.359.4467 (toll free)
707.446.4906 (fax)
desparza@cal-inc.com
Demolition Services:
Building Demolition
Interior/Soft Demolition
DOSH Demolition
Industrial Demolition
Power Plant Demolition
Military Housing Demolition
Interior Renovation
Small & Large Scale Cleanups
Service Links
Communities Served
Vacaville
Fairfield
Sacramento
Richmond
San Francisco
Vallejo
Woodland
Davis
Concord
Walnut Creek
Oakland
Yuba
Yolo
Fremont
Stockton
Modesto
Petaluma
Santa Rosa
Napa
Redding
Red Bluff
Eureka
Berkeley
Chico
Rio Vista
Antioch
Winters
Sebastapol
Novato
San Mateo
Palo Alto
Redwood City
Livermore
San Ramon
Dublin
Tracy
Calistoga
St. Helena
Marysville
Oroville
San Jose
Mountain View
Cupertino
Los Gatos
Sonoma
Solano
Sacramento
Contra Costa
Alameda
Yolo
Mendocino
San Joaquin
Marin
San Mateo
Santa Clara
Stanislaus
El Dorado
Placer
Sutter
Yuba
Butte
Glenn
Lake
Tehama
Shasta
Martinez
Antioch
Rio Vista
Pinole
San Pablo
Alameda
San Leandro
Hayward
Castro Valley
Union City
Milpitas
Sunnyvale
Santa Clara
Santa Cruz
Monterey
Burlingame
Rocklin
Roseville
Folsom
Rancho Cordova
Citrus Heights
Elk Grove
Galt
Lodi
Manteca
Tracy
Danville
Pleasanton
Merced
Fort Bragg
Colusa
Anderson
Red Bluff
Grass Valley
Nevada City
Auburn
Placerville
Paso Robles
Salinas
Lake Tahoe
Truckee
Reno
Carson City
Morgan Hill
Gilroy
Demolition Project Services
CAL INC is a Demolition Contractor that provides complete Demolition project services that are cost-effective, safe, on-time, and under budget. As a Demolition Contractor for over 30 years, we are experts in Building Demolition, Soft/Interior Demolition, and DOSH Demolition projects.
Building Demolition Contractor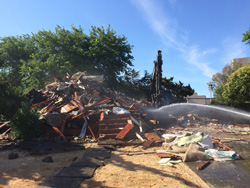 CAL INC is a California State licensed Demolition Contractor (C-21) that has the required capabilities to perform all types of Demolition Services on any size project. Whether it be a single story structure or multi-level facility, CAL INC can handle your building and home demolition needs.
Interior/Soft Demolition
With certified and trained demolition professionals, CAL INC's interior demolition crew can demolish walls, re-build walls, remove and replace carpet, ceiling tile, and much more. Our 30 years experience as a demolition contractor in managing all aspects of an interior demolition project ensure we will have the project done quickly and with the least amount of disruption required.
And if you have a home built prior to 1978, CAL INC has EPA and Cal OSHA trained environmental services and hazardous materials professionals to remedy any Asbestos, Lead, Mold and hazardous waste issues you may have.
DOSH Demolition
Per NESHAP and Cal OSHA regulations, CAL INC is licensed to demolish asbestos containing building materials (containing less than 1% of asbestos) in place, and dispose of as general debris. This allows for greater flexibility on the part of CAL INC to determine and meet your demolition project needs when dealing with older structures that are known to have asbestos containing materials.
CAL INC is Gold Shovel Certified!
Gold Shovel Standard Commitment to Safety
What is the Gold Shovel Standard?
Every six minutes in the United States, an underground utility line is damaged during excavation work. In 2014, PG&E experienced nearly 2,000 dig-ins to our underground facilities—that's almost six dig-ins per day, resulting in $11 million in damage for the year.
In response, PG&E launched the Gold Shovel Standard, a first-of-its kind excavation safety program designed to reduce dig-ins and protect PG&E's underground gas and electric system. With safety as highest priority, PG&E developed the Gold Shovel Standard Certification process to ensure that PG&E's hired contractors adhere to the safest excavation standards. Safe excavation prevents injuries, property damage, inconvenient outages, project delays and high costs.
Certification Requirements
Beginning January 1, 2016, contractors who wish to excavate or subcontract out excavation work for PG&E must obtain Gold Shovel Standard Certification by making a commitment to safe digging practices in accordance with the California "One Call Law" (California Government Code 4216) and the Common Ground Alliance best practices for excavation.
AT CAL INC, safety is most important to us. Contact us today to bid on your next excavation or demolition project! Contact us at Desparza@cal-inc.com for more information.
Comprehensive Demolition, Abatement, & Remodel Services
Whether the assignment is large or small, lasting a few days or several months, we have the project experience, experienced demolition resources, and tools to compete your Building Demolition project quickly, safely and with minimum business disruption. Our demolition experts have a broadly diversified background, having successfully completed projects in:
Industrial, chemical, manufacturing and assembly plants
Power generation and treatment plants
Commercial office buildings and retail space
Medical government, and hotel structures
In addition to our extensive demolition project experience, we are the leading provider of Asbestos, Lead, and Mold Abatement, Remediation, and Removal services in Northern California. Click here for more information on our Abatement & Remediation Services.
This ensures that you only need to work with one contractor to manage the demolition of the property, the remediation, hauling, and disposal of all hazardous materials found on the site, and the remodel and renovation of the building.
Our goal is to provide the highest quality service in the safest environment, to enable our clients to rapidly return their property to productive use.
CAL-INC provides Asbestos abatement and disposals services, lead paint abatement and removal, mold remediation, demolition, PCB/Transformer removal and disposal, stormwater consulting and BMP, general construction and remodel services across Northern and Central California, including the communities of Vacaville, Fairfield, Sacramento , Richmond, San Francisco, Vallejo, Woodland, Davis, Concord, Walnut Creek, Oakland, Fremont, Stockton, Modesto, Petaluma, Santa Rosa, Napa, Redding, Red Bluff, Eureka, Berkeley, Chico, Rio Vista, Antioch, Winters, Sebastapol, Novato, San Mateo, Palo Alto, Redwood City, Livermore, San Ramon, Dublin, Tracy, Calistoga, St. Helena, Marysville, Yuba City, Oroville, San Jose, Mountain View, Cupertino, Los Gatos, Sonoma, Martinez, Antioch, Rio Vista, Pinole, San Pablo, Alameda, San Leandro, Hayward, Castro Valley, Union City, Milpitas, Sunnyvale, Santa Clara, Santa Cruz, Monterey, Burlingame, Rocklin, Roseville, Folsom , Rancho Cordova, Citrus Heights, Elk Grove, Galt, Lodi, Manteca, Tracy, Danville, Pleasanton, Merced, and the counties of Solano, Sacramento , Contra Costa, Alameda, Yolo, Mendocino, San Joaquin, Marin, San Mateo, Santa Clara, Stanislaus, El Dorado, Placer, Sutter, Yuba, Butte, Glenn, Lake, Tehama, Fort Bragg, Colusa, Anderson, Red Bluff, Grass Valley, Nevada City, Auburn, Placerville, Paso Robles, Salinas, Lake Tahoe, Truckee, Reno, Carson City, Morgan Hill, and Gilroy. .